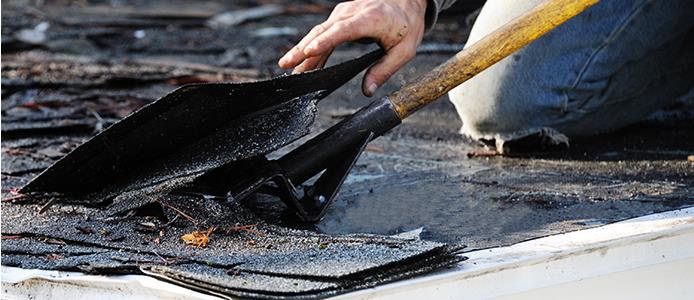 Recycle Shingles
Are we able to recycle shingles? Asphalt shingles are made of bituminous material applied on fibers and added with sand, other bonding agents and paint. Nowadays turf shingles like other waste materials buried in landfills which is harmful for nature. Canada produces over 1.2 million Ton of turf shingle waste and contaminates its lands each and every year.
Contaminating of our lands with turf shingles is definitely not a good way to get rid of them. Look what have we done to our nature.
ABC Construct offers sustainability solution with Recycling Asphalt Shingles (RAS)
Currently, asphalt shingles represent a major and non-degradable waste stream in landfills
In Canada up to 1.25 million tonnes per year of asphalt based roofing waste is generated. Shingle roofing waste contains 25 percent of asphalt. Meaning that over 0.3 million ton worth of asphalt will go to landfills every year. Considering $600 per Ton worth of asphalt, Therefore $180,000,000 of taxpayer's money is burying in landfill every year which can be recycled.
Currently State of Michigan and Illinois using RAS in their Asphalt Which save them 5 to 10  percent in asphalt cost.
In greater Vancouver up to 80,000 tonnes per year (75 lb per person equivalent) asphalt based roofing waste is sent to landfills
Primary use for Recycled Asphalt Shingle (RAS) product
Contains 20 to 30 % asphalt cement (binder) and is used to supplement virgin/new asphalt cement in any paving mixture
Eg. roads, road shoulders, parking lots, bike paths, driveways etc.
Other RAS product uses : Each and every day labs and companies announce new by-product from RAS
Fuel for industrial burners eg. cement kilns use RAS to produce heat
Simply spread and compact on dirt roads for dust control with using RAS is a cheap solution for country roads
Successful story:
King County in U.S. published a report regarding using RAS in Their Hot Mix Asphalt (HMA)
http://your.kingcounty.gov/solidwaste/linkup/documents/shingles-paving-final-report.pdf
report shows that by using 5 to 10 percent of RAS they preserved good quality standard of their asphalt.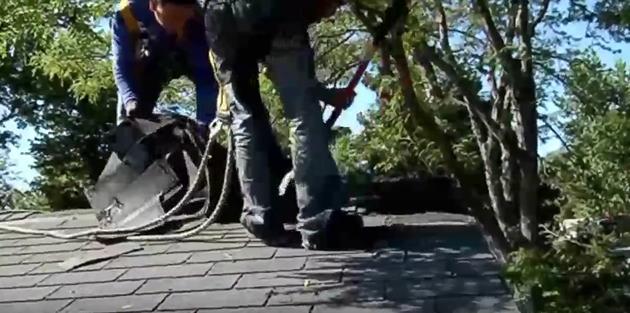 Each year, up to 10 million tons of shingles are removed from the roofs of U.S. homes and buildings.. Every recycled roof is comparable to recycling more than a year's worth of household waste.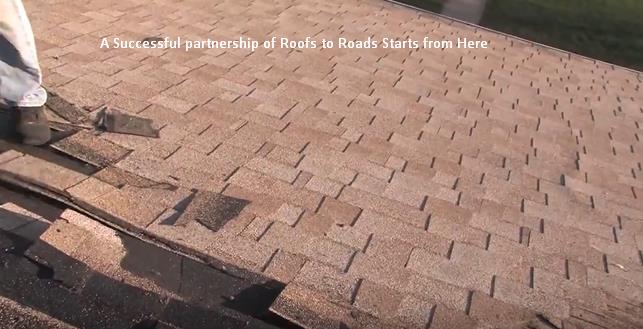 Here is what we offer to recycle asphalt Shingles. After removing turf shingles by roofing contractors or home owners, they ship the waste in our facility in York Region. Because of their cooperation in this program we will appreciate lower tipping cost plus AirMiles or Aeroplane points program.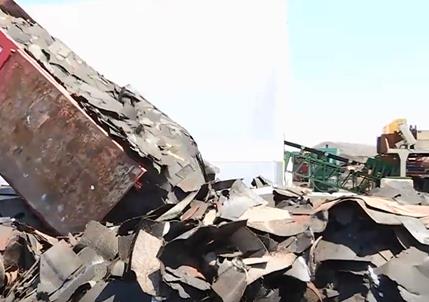 Piles of turf shingles then will be processed and other waste will taken out from shingles. Employees will move out other items and careful attention will be paid for this separation process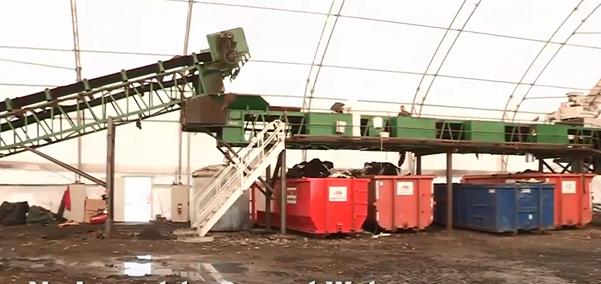 Other recycled products such as plastics and metal pieces and nails will separated at this level and the result is pure turf asphalt shingles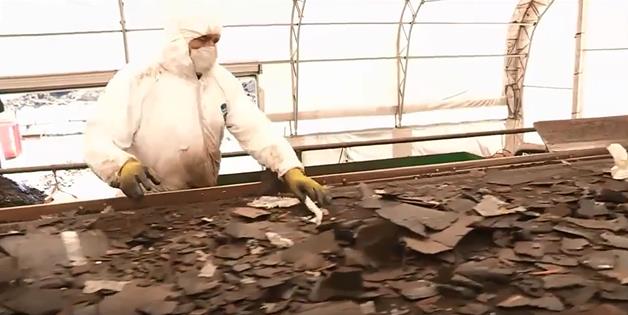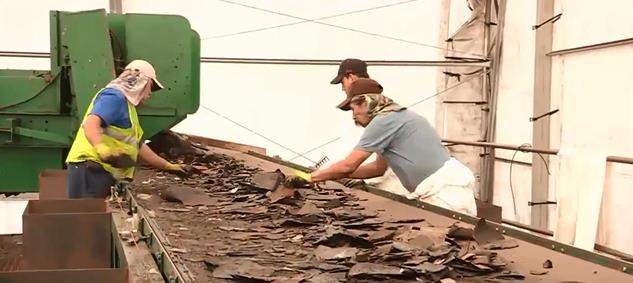 This part creates permanent jobs for our community and sustainable environment.
Next step is grinding pure asphalt shingles which will be done by our huge jaws installed in our machinery.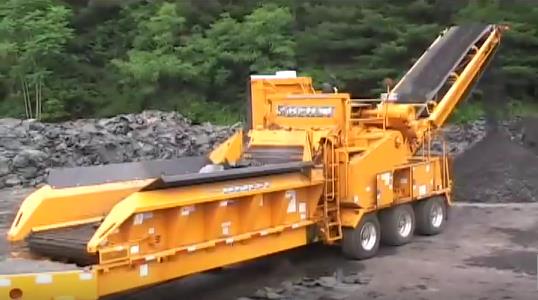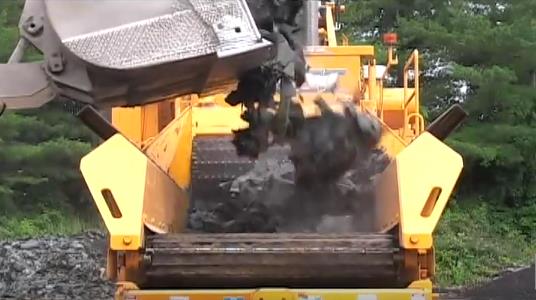 Grinding process will continue until reaches to the size of less or equal to 3/8 of inch.
The final product is RAS which has so many applications and at today's market counts as a commodity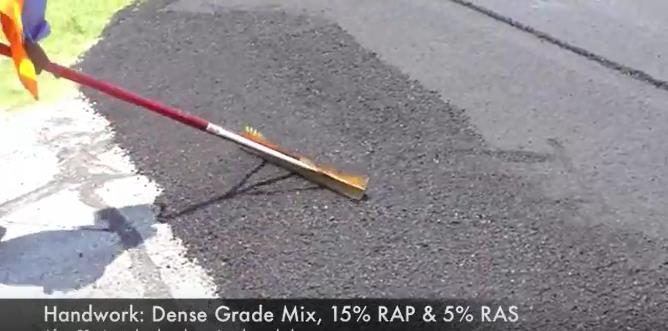 The main application in RAS is Hot Mix Asphalt (HMA) which most of state highway officials allowed to add 5%-10% of RAS in HMA. This will reduce cost of asphalt mix by 5% as well.This also affect in using of virgin oil that used to add in asphalt plants dramatically. State DOT s published different reports regarding this matter.
Several states have sponsored laboratory and field studies looking at the feasibility of using RAS in HMA pavement. States such as Georgia, Ohio, North Carolina, Minnesota and Texas have performed laboratory studies. Many other laboratory studies may be found on the Technical Reports and Articles pages. Field studies also have been conducted in which portions of highways or trailways have been paved with asphalt containing recycled shingles and have been monitored over time. Pennsylvania , North Carolina and Minnesota have conducted such trials.
Benefits shown from these studies include:
Increased stiffness of the asphalt
Decreased cracking
No effect on moisture sensitivity
Decreased susceptibility to rutting
Decreased optimum content of virgin asphalt cement.
Because of the benefits shown by using RAS in HMA pavement, several states allow a certain percentage of RAS to be used in HMA pavements.
Florida up to 5% manufacturer's scrap
Georgia up to 5% manufacturer's scrap
Indiana up to 5% manufacturer's scrap
Kansas permits 5% shingles in any mix in which RAP is permitted. The shingles may be manufactured waste or tear off.
Maryland up to 5% manufacturer's scrap
Michigan up to 5% manufacturer's scrap
New Jersey up to 5% manufacturer's scrap
North Carolina up to 5% manufacturer's scrap
Ohio "certain percentage of recycled material"
Pennsylvania up to 5% manufacturer's scrap
Several states have established offices dedicated to increasing the use and applications of recycled materials in highway projects. To see state information, click on a state below.
Current Market for RAS:
Several markets exist for asphalt shingles. These include:
hot mix asphalt
cold patch
dust control on rural roads
temporary roads or driveways
aggregate road base
new shingles
fuel
Listed below is a description of each market and some of the benefits that may be derived from using recycled asphalt shingles (RAS).
Hot-Mix Asphalt (HMA)
This is the largest current market for RAS.There are several benefits which can be derived from using RAS. These include:1.    Reduced demand on virgin asphalt cement2.    Reduced demand on aggregate3.    Improved properties of HMA pavementThe added asphalt cement decreases the demand for virgin asphalt cement. This has several benefits. Primarily, an economic advantage to the producers of HMA. Cutbacks from shingle factories can be ground up and immediately be added to the HMA process,or regenerated with rejuvenating chemicals prior to the HMA process.[Chelsea Center Technical Report #26] HMA requires certain gradations of aggregate.The ceramics in the shingles provide a source of aggregate, reducing the demand for mined aggregate. Certain properties of asphalt pavement have been shown to improve with the addition of RAS. These include rutting and cracking resistance [Evaluation of Roofing Shingles In HMA].It is suspected that the added mineral fillers and organic fibers help reinforce the matrix.
Cold Patch
The use of RAS as cold patch is a practice that has been employed for years. It has been used in New Jersey, Washington, and California as well as the city of Chicago. Advantages to using cold patch comprised of RAS include the following:·         Patches have a longer life compared to other patch materials. This is likely due to the fibers from the felts or fiberglass in shingles.·         The patch material is very easy to apply.A pothole is simply filled approximately an inch over grade. No equipment is needed as the patch may be compressed by vehicle traffic. The patch is also less dense than other materials, making it easier to haul.·         The RAS cold patch material can be stored longer because it does not "clump" as quickly as other materials [CIWMB], [Roofing Shingles and Toner in Asphalt Pavement]
Dust Control on Rural Roads
Recycled asphalt shingles may be ground and mixed into the gravel used to cover rural, unpaved roads. The mixture leads to several improvements in these rural roads, including , Dust is minimized. An Iowa DOT ["Let Me Shingle Your Roadway"] study showed little or not dust for two years on a rural road.· Reduced loss of gravel into side ditches.·Vehicle noise is reduced.·         The roads have a longer life and require less maintenance. The study conducted by the Iowa DOT noted that the road performed well for at least two years.
Temporary Roads or Driveways
RAS has been used in temporary roads, driveways, or parking lot surfaces. RAS is typically ground to 1/4 inch and passed under a magnetic separator in order to sufficiently remove all nails. The processed shingles are spread and compacted for an easily installed surface. In Altus, OK, RAS was mixed with RAP to create a parking lot surface.
Aggregate Base
Little research has been conducted into this market, but shingles have been used as part of the sub-base in road construction. Processed shingles may be blended with recycled asphalt pavement and concrete. It is suspected that the addition of RAS may improve the compaction of the sub-base [CIWMB ].
New Roofing Shingles
A report prepared for the U.S. Department of Energy showed that the addition of up to 20% of recycled shingles did not affect the production of new shingles. They showed significant energy savings in using RAS.[See Technical Reports]
Fuel
The recovery of the BTU value of waste shingles is an established market in Europe. Only recently has the concept been applied in the United States. It is very limited, however, because of concerns over air pollution.